This wiki was created December 21, 2015.
Welcome to the Lumberjanes Wiki Everyone!
[
]
Hello and welcome to the Lumberjanes Wiki! :) We are a collaborative community website about the Lumberjanes topic that anyone, including you, can edit. Click the edit button at the top of any page to get started editing!
Here are some rules before you start:
No off topic info shall be shared in the article s featured on our wiki.
No innapropriate language shall be used.
No untrue info shall be placed on character profile pictures, location articles, etc.
Please be respectful to everyone you interact with on the website.
Thanks for reading! Hope you enjoy! :)
Lumberjanes
[
]
Friendship to the max! At Miss Qiunzella Thiskwin Penniquiqul Thistle Crumpet's Camp for Hardcore Lady Types, things are not what they seem. Mythical creatures that turn out to be real, secret caves, creepy messages, SHEESH! Can Lumberjanes EVER get a break from the supernatural? Not likely! Luckily Jo, April, Mal, Molly and Ripley are five rad, butt-kicking best friends who are determined to have an awesome summer together —and they're not gonna let a magical quest or an army of supernatural critters get in their way!
Lumberjanes is a series of comics and novels that center around the members of the Roanoke cabin, their counselor Jen, and friends like Barney.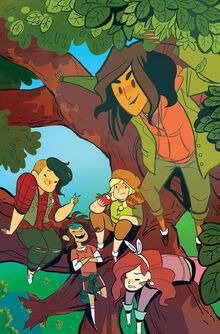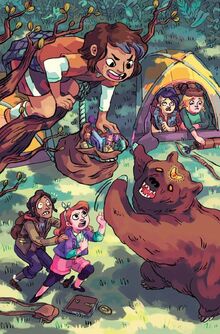 Other Links
[
]